Amazing Encounter on The Web
郭子文
Two years ago in September, my dad passed away. Among his few last wishes, it was obviously that the most urgent one was to have a scholarship fund set up for school children in his home village, AoJiaWan. AoJiaWan is a remote village in Sinan County located in the northeast quadrant of mountainous Guizhou Province. There often times, a child dropped out of school because his family was too poor to pay for the extra expenses incurred for schooling. The scholarship fund would be providing a stipend to the children in need for up to 10 years so that they would be able to at least complete the government sponsored basic education. My dad himself came from such a family in the village. As a child, he had to overcome many obstacles and endured immeasurable sufferings in order to finally complete his college education. He did not wish to see, one century later, that another child from his own village would still have to deal with a similar struggle as he had to.

After some thorough research, we, 6 siblings all together, decided to entrust Zigen Foundation with this task. Zigen literally means "to nourish the roots" in the Chinese language. It has conducted numerous projects in the most poverty- stricken areas in China. Their long range goals have been focused on helping the poor to become self-reliant. Their efforts have been centered around providing uninterrupted education for the children and offering continued education for the women in the villages to acquire bread-earning skills. Zigen's goals and purposes fit my father's wish very well.

Zigen already has had many projects in the Province of Guizhou, but had never been doing projects in the immediate area around AoJiaWan. After reviewing our request, Zigen explained to us that they would be honored to establish this scholarship program for us, and the recipients would be in Sinan County, but most likely they would not be from AoJiaWan. The reason was that each school district would make its own decision on the acceptance of external funding source for their school children. Zigen had never been in AoJiaWan and thus it would be very difficult to start something totally new without having any prior working relations. Understanding the situation, we agreed to having the project started at another village in Sinan County because we thought that the primary purpose of the project was to help school children with financial needs, the location of the project thus became only secondary.

Zigen was very efficient with their task. Last September, the first allotment of financial assistance was already administered in TongRen, in a village northeast of AoJiaWan. Mr. Cai of Zigen then indicated to me that since the work has begun in the area not very far from AoJiaWan, Zigen is willing to look into the possibility of expanding the work toward my dad's hometown area. Thus he asked me for the exact name of my dad's hometown to help them look it up and study it. I provided three key words, i.e., AoJiaWan(the village), XingLong(the township) and ShiQuanYin(the Stone Goddess of Mercy Elementary School where my dad had attended school in early years. ) Two days later, Mr. Cai came back with a link to a blogger in China, Mr. An -YuanQui. Mr. An is a well-known writer, a native of XingLong Township. One can easily see from the many articles posted in the blog, http://blog.sina.com.cn/snsfayk, that he is a devoted protector and promoter of the local culture and tradition.

As I was reading his first article, Temple TianTai, in the blog, I was startled to see the following description in a paragraph:

"The scenery here has an indescribable quality as mountain and water intertwine together. Into the distance from the ruins of Temple TianTai, westerly lies the old Kuo's family homestead of AoJiaWan; northward it borders against an ancient battlefield; alongside, the unbroken mountain continues from one peak after another. Beneath, and beyond the LuoGuo Settlement, there sits the enshrined ShiGuanYin, the Stone Goddess of Mercy."

It was like an archeologist hitting a treasure in the earth with a shovel. There were just too many coincidences in the paragraph. Could the so called Kuo's family homestead be my dad's family old house? How many families are there in AoJiaWan having the same surname, "Kuo"?

To be exact, the unexpected find struck a deep nerve because of what happened a few years earlier. Back in 2003, my dad asked me to travel to AoJiaWan in his place with two missions since he was already in his late 90's and couldn't travel any more. First I was to pay respect to my grandpa and grandma at their grave sites in the village. Years ago my dad had sent money to my cousin to fix up their graves and I was supposed to report back to him after my visit. Secondly, I was to find out how much was the cost to have a child contnue in school because my dad was already in the process of setting up a scholarship plan to financially assist school children in his home village. Besides these two, he did not specify any other purpose for the trip.

At the end of 2003, I went to AoJiaWan with the two assigned tasks. When I came back, I was very confident that the tasks were carried out properly and dutifully. However, after I finished my report, my dad posted a few surprising questions to me. Had I seen the old family house on this visit? Were there still old trees and woods around the house? Was the water of Wu River still so clear that fish was visible as they swam in it? It then dawned on me that he must have been homesick for a long time that the memories from his childhood were still very much alive even after 90 some years. I regretted so much for not being more attentive to his innermost sentiment before my trip. Dad had been always a man with few words, and I, being mindless at times, might have totally missed the unspoken words this time. Even though I had spent an entire day at AoJiaWan, surrounded by many relatives, it had never crossed my mind there that I should have asked them to take me to the old house for one brief look!

My dad died in 2010 and this regret had to be buried in my heart because it can never be reconciled now. None of us had gone back to visit the village after my trip. One day, as my sister was sorting out the things dad had left behind, she found an old notebook. In it, he wrote "the old family house was gone, most likely, demolished". He probably concluded that if the house were still intact, my cousins would have taken me there for a look. Dad never asked me those questions on the house again ever since. He was certain that the house he remembered so well was there no more. I, on the other hand, not in my wildest imagination, could believe that a clue appeared out of nowhere leading to the possibility of finding my dad's old house one year later.

Without hesitation, I wrote to Mr. An on his blog inquiring about his mention of the Kuo's family homestead. Not only that it was precisely our family's old house he was referring to, but also that he and my dad had corresponded by mail years ago when he was fundraising for the restoration of Temple TianTai. As soon as weather permitted, Mr. An went back to this remote village and took more pictures of the old house, the trees and the woods around it, the stone steps leading to the house, the stone mill from my grandma's days......the new occupants......., as well as the old school, ShiGuanYin, the Stone Goddess of Mercy, where my dad had attended school almost a century ago.... I was totally amazed to see that the house was just like what I imagined from my dad's brief description. If my dad had been still here seeing this old house with its paints peeled off, stone mill discarded, trees and all......., he would have cried yet felt relieved.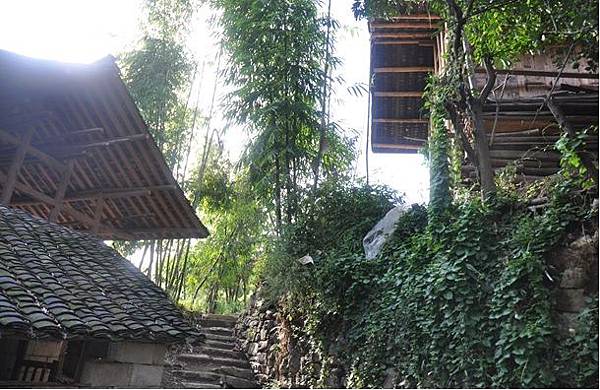 The steps leading up to my dad's old family home in the village of AoJiaWan.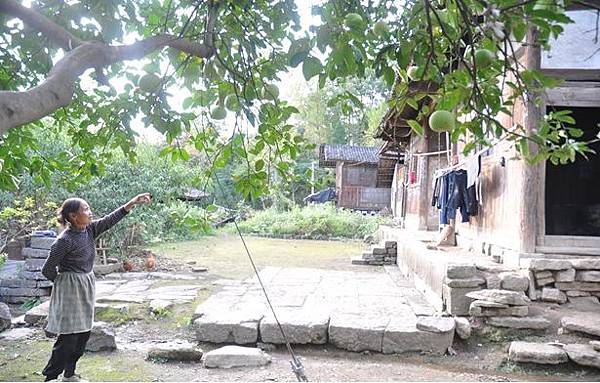 New occupant of our old family home.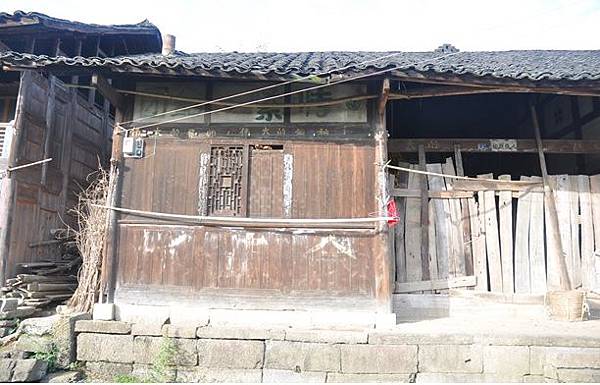 Today this is the only room that is left unchanged with the original look.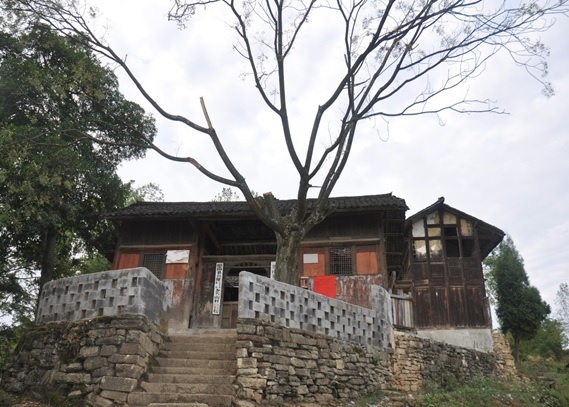 Today's ShiGuanYin Primary School where my dad attended school a century ago.

This belated discovery brought great consolation to all six of us siblings. It was a most generous and merciful answer to my dad's longing for going home. In turn, I am indebted to Mr. Cai of Zigen for his directing me to the blog; to Mr. An for his unyielding dedication to his homeland. Without his assistance to my family in this matter, we would not have been able to fulfill an unspoken wish that our dad had kept dearly in his heart. Last, I would like to thank modern day technology as well. Even though the computer did not literally write this story for me, but without it, I won't have a story to tell. It was the internet that transmitted all the necessary information from Mr. An's blog in China to a stranger's searching hands in the US. I was that stranger at the receiving end.

This amazing encounter on the Web made me feel very humbled and grateful. Because of the gratefulness, I am sharing this story with you and wishing that on earth peace to all people of good will.